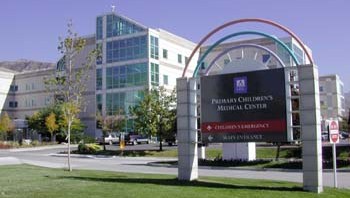 Primary Children's Hospital (PCH), a free-standing children's hospital, moved onto the University Medical Campus in 1990 and continues to serve as the major site of training for our pediatric programs. The hospital, owned by Intermountain Healthcare, one of the nation's premiere not-for-profit healthcare corporations, is the tertiary referral center for Utah and six surrounding states. Annually, the inpatient service handles 12,000 admissions, and there are more than 40,000 visits to the Emergency Department and more than 150,000 visits to outpatient subspecialty clinics at PCH. Within PCH are: a newborn intensive care unit; pediatric intensive care unit; general pediatric wards; a rehabilitation center; and multiple sub-specialty clinics. 
University Hospital is a 535-bed tertiary and primary care center situated at the foot of the Wasatch Mountains in Salt Lake City, and averages 26,000 inpatient admits per year. The hospital is a major referral center for complex and often unusual medical cases from throughout the Intermountain West. It also maintains a large primary care base supplied from the Division of General Internal Medicine and the ten satellite clinics of the University of Utah Health Network. All patients have private rooms with fantastic views of the Salt Lake Valley and surrounding mountains.
Resident rotations at the University Hospital include general medicine ward teams and subspecialty ward teams, including pulmonary, general cardiology, chronic heart failure. Residents also gain experience in the Medical Intensive Care Unit, Cardiovascular Intensive Care Unit, and the Emergency Room, a Level 1 trauma center. Residents will also have experiences in subspecialty consults and outpatient clinics. All rotations are staffed by University of Utah faculty and ample support services.
The George E. Wahlen Dept. of Veterans Affairs Medical Center (VAMC) is a 121 bed tertiary and primary care medical center located about a mile south of University Hospital. It is the major tertiary referral center for the Department of Veterans Affairs for a five-state region and has a diverse inpatient and outpatient population.
The VAMC provides an outstanding opportunity for residents to have graded responsibility and the necessary autonomy to develop individual responsibility for patient management. Resident experiences include general medicine wards, MICU, emergency care, general medicine ambulatory care, and multiple outpatient subspecialty clinics.